Ankit Patel has been working with StrongKey for 4 years. In that time his accomplishments he's proud of outside work include having run a half marathon and a tough mudder.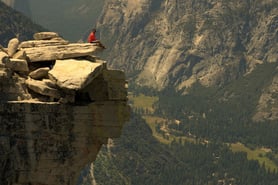 Q: Can you give us an elevator pitch to describe what you do at StrongKey?
A: My role and goal is to make sure the customers are able to use StrongKey products without any disruptions and, as efficiently as possible, to answer any question customers might have on utilizing the StrongKey products.
Q: What is your favorite thing about working at StrongKey?
A: Transparency and scope of learning; it's satisfying to see the culture where the information is shared with every team member irrespective of their title. Also, as StrongKey provides a solution in the complex field of data security, the scope of learning is never-ending.
Q: When you're not at work, what will we find you doing?
A: There is a high chance that I'll be caught walking either near my apartment or on some trail in the mountains. Other than that, I like reading books and playing volleyball.
Q: What book, show, podcast, movie or album do you consider a must?
A: Movies based on real historical events always fascinate me. To name a few, I would recommend Big Short, Zero Dark Thirty, Darkest Hour, and Pearl Harbor. Being a jack-of-all-trades but master of none, Range: Why Generalists Triumph in a Specialized World, by David Epstein, was fulfilling to read in today's demand more and more specialization.
Q: If you could be any movie character, who would you want to be and why?
A: I would like to keep becoming a better version of myself; whenever I look back at my younger self, I should be able to say, 'I was so naive.'