Mansi, a valued member of the StrongKey team for over a year now, brings a wealth of experience from her previous roles in data science and software at companies like Uber and American Express. Alongside her professional endeavors, Mansi finds solace in her passion for reading, exploring new destinations, and staying active in various athletic pursuits.
Q: Can you give us an elevator pitch to describe what you do at StrongKey?
A: In my role at StrongKey, I take on multiple responsibilities. I actively contribute to the development of the StrongKey FIDO server, diligently maintain up-to-date documentation, and provide dedicated support to our valued customers.
Q: What is your favorite thing about working at StrongKey?
A: One of the most rewarding aspects of being a part of the StrongKey team is the exceptional group of skilled and compassionate individuals that I have the privilege of working with on a daily basis. Not only do we tackle complex problems together, but this collaborative environment also provides an invaluable opportunity for continuous learning and personal growth.
Q: When you're not at work, what will we find you doing?
A: You will find me reading the news so that I stay updated on what is happening in the world. Or I will be listening to music.
Q: What book, show, podcast, movie or album do you consider a must?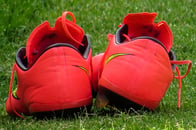 A: I would recommend Ted Lasso for both the humor and soccer. The series makes you feel better and certainly makes you have a more optimistic outlook.
Q: If you could be any movie character, who would you want to be and why?
A: Oppenheimer for his brilliance and eccentricity.
Thanks for reading, and be sure to look for more Employee Spotlights on the StrongKey family!