For the month of September, StrongKey is spotlighting Pushkar Marathe, who just celebrated his 10-year anniversary with the company. Aside from being a mainstay on our fitness competition board, he somehow balances that with a deep knowledge of great places to eat.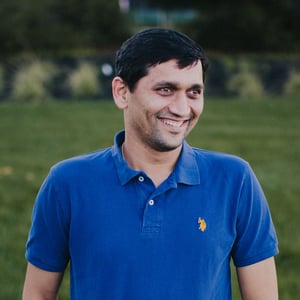 Q: Can you give us an elevator pitch to describe what you do at StrongKey?
I am currently the Engineering Manager at StrongKey, but a Java developer at heart. I am responsible for managing the Engineering team to ensure that our products are built with highest security standards while also writing back-end code for some of our core products.


Q: What is your favorite thing about working at StrongKey?
One of my favorite things about this job is that you always get to learn new things. Even after 10 years at StrongKey, I always have the opportunity to work with new technology and solve problems that have not been solved yet.


Q: When you're not at work, what will we find you doing?
If I am not at work, you will find me outside playing a sport (soccer, volleyball, ultimate frisbee being the top three). During the quarantine, I have tried keeping myself active by just going to parks for a walk/run.


Q: What book, show, podcast, movie or album do you consider a must?
I am a competitor and love outdoors and reality shows, so for me Survivor is what I would recommend, and if given a chance, I would love to participate in something like that. I also love superhero movies and like to watch Marvel movies (sorry, DC).


Q: If you could be any movie character, who would you want to be and why?
I am an animal lover (love dogs) so I would like to be like Dr. Dolittle and have the ability to talk to animals.
Thanks for reading, and be sure to look for more Employee Spotlights on the StrongKey family!