RSA Conference is where the world comes to talk cybersecurity. Even with the looming threat of the coronavirus, techies from around the world gathered in downtown San Francisco to learn about the latest innovations in what is one of today's most pressing issues: the privacy of the human experience.
Don't think cybersecurity is a big deal for you or your business? The average impact of a data breach is some 25,000 records with a cost of $3.92M. Even smaller breaches are debilitating for any business with an average cost of $150 per record. That's a crippling amount for any business. This does not include mega breaches such as the ones affecting Marriott, Equifax, and Capital One, totaling hundreds of millions of records compromised in just the last few years.
As technologists continue to innovate and evolve the way we live our lives, cyber threats evolve with them. There were over 40,000 attendees at RSA, and in a sea of over 600 exhibitors, North Carolina companies made a big splash. Here are a few that are taking on the world's biggest cybersecurity issues:
SolarWinds
SolarWinds is an IT management software provider with more than 90,000 customers worldwide. It entered the Triangle market in 2016 and the company most recently pre-leased 80,000 square feet in NC's Research Triangle Park as part of an expansion.
According to Kim Cecchini, Senior Director of Corporate Communications at the Austin, TX-based company, the RTP market is prime for tech companies.
---
StrongKey
StrongKey is a hardware-based data security company focusing on enterprise key management. They "make breaches irrelevant" by ensuring that even with a hacker on the network, your most valuable assets can't be compromised.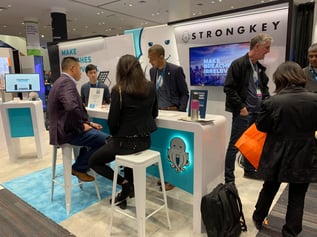 The company opened offices in Durham, NC in 2017 after strategically choosing the Bull City as the East Coast counterpart to their Cupertino, CA headquarters. StrongKey has attended RSA for several years now and considers it one of their most important events. It's a great way to connect with potential customers who are looking for new technology as well as to catch up with existing clients, says COO Jake Kiser.
With clients on six continents, this open-source company has the potential to be a major player in the industry. You can check out their GitHub account here.
---
Varonis Systems
Varonis Systems, a data security and analytics software company with a presence in North Carolina's Research Triangle Park (RTP is the largest research park in the nation). Content and Media Relations Manager Rachel Hunt says that Varonis chose to showcase scalable cloud data protection at this year's conference.
When they're not detecting threats, they're educating the public on things like the definitions, explanations, and legislation around data privacy (check out their guide here).
---
Some other North Carolina companies that had employees in attendance were bioMérieux, eLearnSecurity, ePlus, INE, and Security Journey.
With more and more tech companies choosing mid-sized cities for their quality of life and proximity to talent, we can only expect North Carolina's vibrant tech scene to continue to grow. RSA Conference attracts businesses from across the globe and with the potential to do a year's worth of meeting in one week, it's the place to be if you are in cybersecurity.
Note: This blog post is not an endorsement of the mentioned companies.