For the month of December, StrongKey is highlighting our Technical Project Manager, Suhail Noor. A California transplant to the Virginia Blue Ridge Mountains, Suhail always has a winning smile and informed confidence that make him a welcome addition to any virtual meeting--at StrongKey or anywhere else.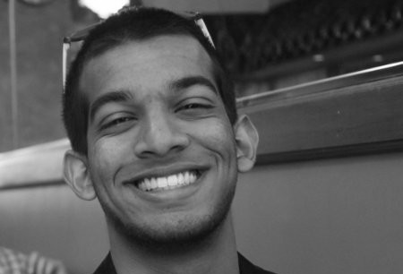 Q: Can you give us an elevator pitch to describe what you do at StrongKey?
A: I touch a lot of different parts of the company, but most weeks involve sitting in as a technical resource on sales calls, managing a few long term projects/customer order fulfillment, and helping our Marketing team out with content generation and webinars. I also hold the honor of being the worst artist in our virtual company Pictionary sessions.
Q: What is your favorite thing about working at StrongKey?
A: My favorite part of the job is definitely how much I get to learn about industries and products that I'd never even heard of before, because they all have a common need for data protection solutions. In just over a year working here I've learned a crazy amount about e-commerce, defense manufacturing, energy production, and other things I'd never really thought about before. Which doesn't even include the actual stuff that StrongKey does, like data encryption, passwordless authentication, cryptographic key management, etc. No two customer calls are ever the same, and that's something that makes working every day really fun.
Q: When you're not at work, what will we find you doing?
A: Being at home so much during the pandemic has made me try to find new hobbies (just got some woodworking/carving gear that I have yet to remove from its packaging) but the constant is reading. I also try to get outside as much as possible, and have explored a lot of the Charlottesville, VA area through volunteering with Big Brothers Big Sisters of the Central Blue Ridge.
Q: What book, show, podcast, movie or album do you consider a must?
A: Can't possibly choose a single book so I won't try! Lately my wife and I have been watching a lot of old Top Chef seasons, and it's fun to see all the crazy food these chefs can make in a half hour and then go upstairs and manage to fail at boiling pasta. My favorite podcast is Planet Money because of all the crazy stories they report on. Can't choose a single album but I've had a Spotify playlist called, "Focus," that I've been building for a decade, consisting of all the best background music for work. The most common sources of songs on there are the soundtracks to The Crown and Interstellar. Another great album from this year that people should check out is Dreamland by the Glass Animals, (the best song on it is called, "Your Love").
Q: If you could be any movie character, who would you want to be and why?
A: I'm going to replace, "movie," with, "book," and choose to be any detective in an old school mystery.
Thanks for reading, and be sure to look for more Employee Spotlights on the StrongKey family!