With data breaches as a mainstay in news headlines, more companies are taking responsibility for the relationships they hold with customers and aiming to protect the trust they have placed in them. To do so, an important step is becoming GDPR-compliant. Join StrongKey CTO and Forbes Technology Council Member, Arshad Noor as he walks you through the ins and outs of GDPR.
PREVIEW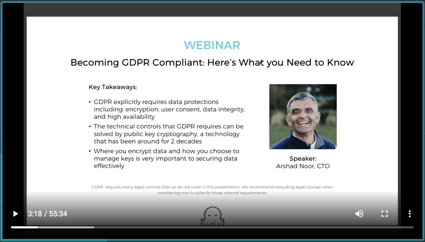 Key elements of this webinar include:
A review of GDPR's definitions for complicated concepts like user consent, data breaches, and privacy by design.

A detailed overview of the technical requirements now enforced by GDPR, including data encryption, pseudonymization, integrity, and high availability.

Where and how to encrypt data and manage encryption keys to keep data truly safe and avoid GDPR penalties.